Isamu Noguchi
.
.
Isamu Noguchi was born on November 17, 1904 in Los Angeles to an American mother and Japanese father. At the age of 8, he was apprenticed to a local
carpenter in Japan. He moved to Indiana at the age of 13 after returning from Japan. Noguchi attended a training program for basic medicine at Columbia. In the meantime, he took sculpture classes in the Lower East Side. He mentored under sculptor, Onorio Ruotolo. Before finishing the training program, Noguchi dropped out to become an academic sculptor. He was advised to change his surname from Gilmour to Noguchi by Michio Ito, a dancer whose status became Noguchi's connection to the art world.
In 1926, Noguchi saw an exhibition by Constantin Brancusi which changed his direction to modernism and a form of abstract art. Noguchi learned stone culpture from Brancusi and maybe the most important lesson of a
ppreciating the "value of the moment." It was also the year he met Martha Graham through Michio Ito. In 1930, he began his journey to Asia. He went to China where he learned brush painting under Qi Baishi. (left: painting by Qi Baishi)
He then traveled to Japan, studied pottery with Uno Jinmatsu, and received inspiration for his terra cotta works. Hereturned from Asia in 1932 with new sculptures inspired by Asian culture. He began submitting designs for
monuments and other works to the Public Works of Art Program in 1934. These designs were rejected and unrealized.
It was in 1935 when things took off for Noguchi. He had created his set design for Graham's Frontier, his first of about twenty of her dance-set designs. A few years after that, he created a relief mural in Mexico and a sculpture relating to freedom of the press, which made his work very well-known in the United States. After Pearl Harbor, he became an activist for the Nisei, second generation Japanese Americans. He was placed in an internment camp in Arizona where, for seven months, he was forced to interact with people he shared little in common with.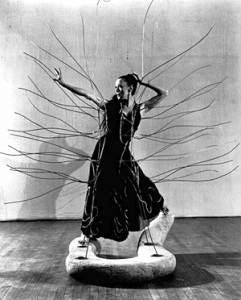 After his release, Noguchi returned to New York where he capitalized on surrealist movements as well as his own style in his sculptures. He continued to design dance-set designs for Graham, among them being Appalachian Spring, while maintaining a friendship with Graham that lasted for over forty years.  In 1962 he was elected to membership in the American Academy of Arts and Letters and later, 1971 elected a fellow of the American Academy of Arts and Sciences. Noguchi proudly represented the United States at the Venice Biennale in 1986 by showing his Akari light sculptures. He was awarded the National Medal of Arts in 1987.
.
.
Noguchi died on December 30, 1988. His obituary in the New York Times called him "a versatile and prolific sculptor whose earthy stones and meditative gardens bridging East and West have become landmarks of 20th-century art." The Isamu Noguchi Foundation and Garden Museum is devoted to the preservation, documentation, presentation, and interpretation of the work of Isamu Noguchi.