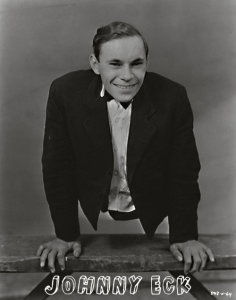 John Eckhardt Jr. was born in Baltimore in 1911, on 622 North Milton Avenue, not far from Johns Hopkins Hospital.  Johnny was one of two twins. While his brother Robert was born with a full body, Johhny's body stopped just his ribs. He wasn't expected to live very long, but by the age of one, he  had learned to walk on his hands before Robert had learned to walk.
In 1923, Johnny was discovered by John McAslan, a slimy magician. McAslan took Johnny under his wing, changed Johnny's last name to Eck, and introduced him to freak shows. McAslan convinced Johnny's parents to agree to a one year contract and took Johnny and Robert on the road. They developed an act that involved magic tricks and acrobatics. His most famous trick was his one armed hand stand.
Johnny went on to perform in the movie Freaks (1932) and three of the Tarzan movies. He performed at the first Ripley's Believe It Or Not Odditorium and was part of Raboid Rasha's vaudeville show.
In 1940, Johhny retired from show business. He returned home to Baltimore where he and Robert made their living by
opening up a penny arcade and a small train for kids to ride in. Johnny also enjoyed screen painting, a Baltimore tradition.
Unfortunately, the end of Johnny's life was not pleasant. The neighborhood he grew up in had devolved, and Johnny and Robert were beat up by thieves in their own home in 1987. From then on, the brothers lived in seclusion. Johnny died of a heart attack in 1991 and Robert died four years later. They are buried in Greenmount Cemetery.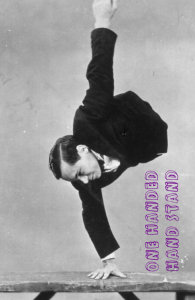 Related Links:-
A map of Greenmount Cemetery:
Want more? Read the last episode about Ottomar Mergenthaler: inventor extraordinaire.